Description
Celtic Style in a Striking Garden Bench
The Green Man Garden Bench by Giannini Fountains features dual sculpted reliefs of Green Man, the ancient Druidic icon of gardeners. Decorative scrollwork adorns a portion of the large surface area, and with a 5+ foot bench seat there's ample room for two people.
The bench consists of 6 sections, a manageable configuration for initial setup and relocation. Enjoy the whimsical charm and durability of this 450-pound concrete garden bench.

Other Green Man pieces:

Enjoy Your Garden in Style
Prepare your outdoor space for an elegant accent piece. Each Green Man Garden Bench is individually hand built and provides an ideal spot to rest, reflect, and enjoy nature's surroundings.
Choose any color from the Giannini palette to compliment your decorative theme. Your concrete garden bench will fit perfectly into locations that include:
➤ Patio, Garden, Courtyard, Gazebo, Lawn, Porch, Entryway

About "Natural": A bench ordered in the "Natural" color is unfinished concrete straight from the mold (no stain), and buffed to remove rough spots. This is ideal if you want to speed up the "antiquing" process. Learn more under Resources.


Why You'll Love It
Made in the USA: At a family-owned business on the West Coast
Hand-Poured Cast Stone Concrete: High-grade materials from molders, artists, and sculptors who create each bench with passion
Beautifully Finished: The stain is formulated to change over time in response to the elements

Uniquely Yours: Due to the texture and detail of natural materials used and the handcrafting process, no two pieces are the same. The stain is purposefully finished to convey an "aged" look

Resources
Giannini Manufacturing Process

Giannini Final Finish, Aging Process, Preparation & Maintenance

Specifications
Giannini Garden Ornaments #522
| | |
| --- | --- |
| Type | Outdoor |
| Material | Cast Stone Concrete |
| Color | Available in any finish from Giannini color palette |
| Dimensions | 62"L x 35''H / 450 lbs. |
| Warranty | 1 year manufacturer's full warranty |
Shipping Made Simple
Fountainful provides free shipping in the Lower 48 U.S. thanks to our partnership with 20+ freight carriers.  Alaska, Hawaii, or International Residents: please call or chat with us prior to ordering.
Delivery Methods
| | |
| --- | --- |
| "Standard Shipping" | Free to our customers. Ships via freight truck (LTL) with a liftgate. Delivered curbside on a pallet and extensively packaged. Does not include set-up, assembly, or the disposal of packaging. |
| "Standard Parcel" | Free to our customers. Ships via common carrier (e.g., FedEx, UPS, USPS). |
| Upgrade: "Threshold/Inside Property" | Available at checkout on certain products for an additional charge. The freight carrier will cross the property line (i.e., the threshold) and lower the pallet at the first dry area (e.g., garage, covered porch). Not available on Blue Thumb items. |
For hard-to-reach addresses or unusually long driveway configurations, some carriers may charge extra or require the shipment to be "rescued" by a freight carrier with greater capabilities. If this happens, we'll keep you updated on the timeframe and any additional cost.
Delivery Timeframes: Ready-to-Ship
Items designated as ready-to-ship generally leave the warehouse within 5-7 business days. 
Delivery Timeframes: for Made-to-Order
The disclosed timeframes are estimates based on the design studio's extensive track records and typical production capacities. You'll be notified of any unexpected delays. Delays (i.e., longer curing times because of high humidity) are beyond Fountainful's control. 
REMEMBER: casting, curing, and staining decorative concrete is not an exact science. The strict attention to detail is why these products are so well loved! Learn more about concrete production in our FAQs.


Brand / Design Studio
Timeframe
State of Origin
Adagio Water Features
7-12 business days
Utah
Blue Thumb
7-12 business days
Michigan
Giannini Garden Ornaments

November thru April: 5-7 weeks
May thru October: 7-10 weeks

California
GIST Concrete Products
6-9 weeks
Arizona
Massarelli's
3-6 weeks
New Jersey
Fire Pit Art
10-15 business days
Tennessee
Studio M
7-10 business days
Missouri
The Outdoor Plus
3-6 weeks
California
Winter Woodworks
7-12 business days
Wisconsin
Misc. Delivery Terms
Special Instructions
If there are special delivery instructions for

 

the freight carrier, please let us know at the time of order so accommodations may be made. There may be additional charges for special requests.
Delivery Appt. & Holds
Similar to furniture deliveries, the carrier may call you before delivery to schedule drop off. If you commit to an appointment and are not present to accept delivery, or if you confirm a delivery date and subsequently reschedule, a re-delivery fee may be charged for which you are responsible. If the carrier must hold your pallet beyond their standard courtesy period, you are responsible for any hold fees.
Change of Address
Any fee charged by the carrier for a change/re-consign of the original delivery address is your responsibility.
Forklift
Items that require a forklift are designated as such on the product page. If ordering a "forklift required" product, plan ahead by contacting a local contractor or small equipment rental outfit (e.g., Home Depot, Lowes).
Always inspect your delivery. See the
 

Refund Policy for a Delivery Inspection Checklist.
Placement & Safety
A concrete fountain must be placed on a level and firm surface and not raised off the ground more than the inch or two that would occur if using a foundation.
An authorized Giannini foundation will additionally help prevent unplanned erosion from the weather, sprinkler system, and fountain splash.
For both safety and optimal performance, do not place fountain on a pedestal or riser, unless included as part of the fountain design. 
⚠️ CAUTION: Excessive weight or pressure on a concrete fountain may cause it to fall. Keep children & others from climbing, sitting, or leaning on the fountain.

Traditional fountains have no interlocking components and are held together by gravity. Gluing/cementing parts together is not recommended as they may need to be dismantled to replace the pump, hardware, or to relocate the fountain. 
Where Originality Counts

Giannini finishes are made to look like they have always been in your garden or that you found them on an antiquing trip!
Giannini finishes are also formulated to enhance with the passage of time as they patina from exposure to the elements and conditions around them.
Remember: these color finishes are stains – not paint. Stains are formulated to enhance and complement the hand-sculpted concrete, not hide it! It's natural for the cast stone to show through in parts.

Giannini Garden Ornament's finishes are another testament to the unique beauty of products handcrafted by the Giannini family for more than 30 years.
Give us a call if we can help with color selection!

Color Representation
Products are photographed in a variety of settings, including natural and artificial lighting.

When viewed in person, the actual color, shape, size and texture of products will vary from those shown on color medallions and in catalogs, promotional materials, digital screens and online as every single product is handcrafted and painted.
Curing time, the weather on the day the finish is applied, and material textures all determine the unique outcome of each finish.

These factors add to the uniqueness and authenticity of your product! No two are alike, and variations are normal.
There are no warranties on applied finishes or guarantee that a finish will exactly match a color medallion or media photography.
Order & Refund Policy
Order Placement
After we receive your order, details are immediately confirmed with the design studio/manufacturer to ensure a smooth fulfillment process.
In the chance that your item or color selection has been discontinued or is backordered, we'll contact you about alternative options.
When shipping information is available, it will be sent to the email address you provided.
Refund / Replacement
Cancellation & Returns
Terms differ between Made-to-Order or Ready-to-Ship items.
Made-to-Order
| | |
| --- | --- |
| Within 24-hours of order placement | Full refund |
| After 24-hours of order placement | A refund cannot be issued* |

* Made-to-Order items have a defined production process involving multiple teams of artisans that begin working almost immediately. For concrete items, this begins with the pouring of concrete by hand and the preparation of stains and other elements. Remember: due to variations in natural materials and the handbuilding process, your piece is unique! 
A Policy Exception will only be granted in the rarest of circumstances and will be handled in close coordination with the design studio/manufacturer. A Policy Exception is a courtesy, and if you proceed you'll be required to abide by the terms of the design studio/manufacturer (e.g., return shipping cost, restock fee, final inspection) in addition to a fee determined by Fountainful to reasonably cover our merchant costs and employee time. 
Ready-to-Ship
| | |
| --- | --- |
| Within 24-hours of order placement | Full refund |
| After 24-hours & order has not shipped | Full refund, minus 20% administration fee |
| After 24-hours & order has shipped | Full refund, minus 20% administration fee + return shipping charges. Return shipping must be initiated within 48 business hours of delivery or a refund will not be issued. Product must be clean, unused, and in its original packaging. |
Call us at 214-901-7275 or email sales@fountainful.com. You must obtain a Return Authorization Request (RAN) from us before proceeding to ship the item. If the return request is approved, you are responsible for the return shipping charges.
Any refund issued in accordance with this Policy will only be returned to the original payment method used upon ordering.
Fountainful cannot issue refunds or facilitate returns on damaged Made-to-Order items. We'll work directly with the design studio on your behalf to initiate a speedy repair or replacement.
Delivery Inspection
Damaged deliveries are extremely rare. The checklist below will help facilitate a smooth claims process in the event of a damaged shipment. 
You must report a damaged delivery to us within 24 hours by calling 214-901-7275 or emailing sales@fountainful.com, including as many photos as possible. After 24 hours, you are responsible for filing a shipping claim with the freight carrier.

Delivery Inspection Checklist for LTL/Freight Shipments 
Before You Sign for Delivery
Review paperwork to confirm it is in fact your order.
Look for signs of possible exterior damage even before opening the crate (e.g., ripped shrink-wrap, a broken or open pallet).
Do NOT refuse the delivery unless the damage is very bad, including items poking out of the crate or if it's obvious the pallet fell off the truck.
If Damage is Found
The driver won't be able to wait for a full inspection of the contents.
Write what exterior damage you see onto the paperwork before signing. The paperwork is sometimes called Bill of Lading (BOL) or Delivery Receipt.
BE SPECIFIC, even about anything that looks out of place.

 

Example:

 

Pallet arrived open, potential damage to contents.
Sign the paperwork and ensure a copy is retained by both you and the driver.
Photograph the Damage
Take clear photo(s) of the damaged or suspected areas.
Take a photo of your signed paperwork.
Remit photos to Fountainful immediately, with a description of the delivery experience.
If you set up the product and later attempt a claim, it will be denied by the freight carrier and you will be responsible for the cost of replacement pieces and reshipment.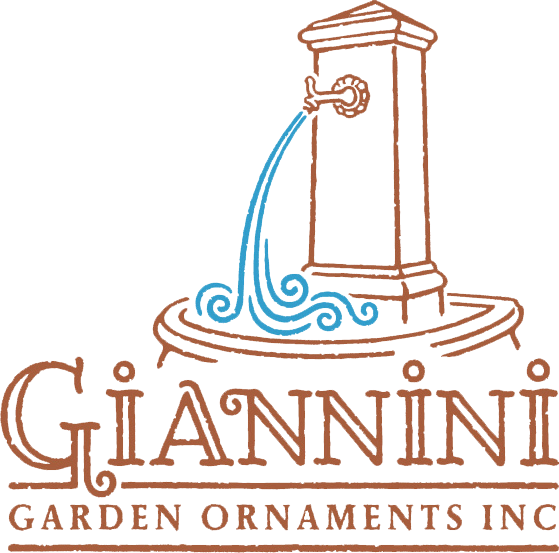 Located in Northern California, Giannini Garden Ornaments was founded in 1993 by Marino and Piera Giannini. Their first designs were hanging wall fountains, planters, and small garden ornaments. As a truly hands-on business, it takes two to three months to take one of Marino's drawings from start to finish and involves a skilled process of hand sculpting and mold making. When the mold is ready for production, it's filled with a slurry of high-quality cement, aggregates, water, steel, synthetic fibers, and additives to ensure strength and durability. The product is then cured and finished with one of their beautiful signature colors applied by hand.
Payment & Security
Your payment information is processed securely. We do not store credit card details nor have access to your credit card information.
QUESTIONS & ANSWERS
Have a Question?
Be the first to ask a question about this.
Ask a Question
New to these kind of products?
Financing a Made-to-Order Item
If you choose to finance your purchase with Affirm, your first payment is due approximately two weeks after your purchase is finalized. Please note that due to extended delivery times of hand built water features and accents, your loan payment(s) may be due before you receive your purchase.